November 27, 2017 | by Adria Lau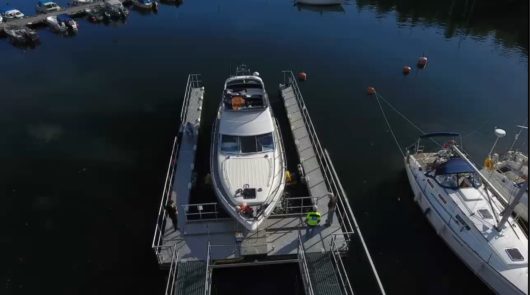 The Clean Boating Foundation recently interviewed Fiona Alven with Drive-in Boat Wash. The Clean Boating Foundation aims at updating boater's and boatyards on new technology as a neutral party. We will be updating this blog after discussing the Boat Wash with the Washington State Department of Ecology. For now, Enjoy!

1. What is your background? What is the background of your company/product?
Drive-in Boatwash was developed in Sweden by Karl-Axel Bartholf and Jan Alven. As colleagues in the hydraulics industry they both knew their way around machines, and as keen boaters they were also very familiar with the age old problem of keeping your boat bottom clean. In Sweden, the environmental sensitivity of the Baltic Sea area and the changing regulation for antifouling resulted in hull brush washing emerging as a state endorsed alternative to copper or zinc based antifouling paints. The family run small company was further incentivized to commercially develop the Drive-in Boatwash technology. Success in Sweden has led to international expansion and Drive-in Boatwash went public on the Stockholm Stock Exchange earlier in 2017. The machines are currently available in a mobile model (Miniwash) and in a range of stationary models the largest of which, BIGWASH 16, can cater for boats up to 53ft.
2. How does the the boat wash work?
The simplest way to describe it is like a car wash for boats. The brush unit is contained in a basin which, once installed in a marina, takes up a mooring space. A hydraulically controlled gate is lowered and the boat sails into the Drive-in Boatwash. The boat is securely moored and the gate is closed during washing. The brush unit travels along the underside of the boat and the rotating brushes work with the boat's shape and resistance. The travel direction is reversed by the operator. The average wash time is 15-20 minutes. No detergent or cleaning products are used. Debris and foul settle on the basis floor, where they can be removed and safely disposed of at intervals.
3. What are the environmental benefits of this product? What are the economic benefits of this product? (if any)
A regular hull brush washing maintenance programme with Drive-in Boatwash allows boaters to completely eliminate or phase out antifouling paint. Biocidal antifouling paint is the main source of copper pollution in recreational boating marinas and harbours. In facilitating boaters and marina managers with a viable option and a proven alternative to antifouling paint, the work involved in cleaning, prepping and painting boats is also eliminated, making boatyards safer and cleaner places to be.
The machines offer an additional income stream to marina owner/managers. As a clean technology enhancing a marina's service provision, they value add the marina. At the same time they provide a cheaper maintenance option for boaters who not longer need to lift, clean, prep and paint their boats.